Overview
The 2022 BMW X5 comes equipped with new technology, more safety features, and an elegant one-piece double kidney grille. The BMW X5 offers driving pleasure on any terrain thanks to the enhanced BMW Twin Power Turbo power unit and the outstanding traction of BMW xDrive all-wheel drive.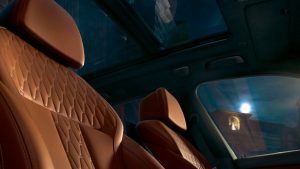 2022 BMW X5 Interior
The interior of the BMW X5 features a clean design with high-quality materials and ambient space. You can extend the vehicle's length and aerodynamics with the optional panoramic glass roof and optional fine glass elements on the gear selector lever. The rear seats also extend to seat five for additional seats comfortably.
2022 BMW X5 Exterior
The front of the 2022 BMW X5 offers a large, slightly hexagonal kidney grille, with optional laser light with blue X elements and a robust air intake. You also receive horizontal lines on the rear of the BMW X5. The split tailgate can also be opened into parts, the fully electric way with the touch of a button.
2022 BMW X5 Performance
The 2022 BMW X5 features a 3.0-litre hybrid engine with a 335-horsepower turbocharged inline-six. The BMW X5 Drive45e plug-in hybrid combines the BMW eDrive electric technology with a powerful BMW combustion engine.
BMW X5 Traction with xOff-Road Package
xSand
The off-road xSand mode offers an additional ground clearance of 20mm, off-road ABS and readily controllable response from the accelerator pedal.
xGravel
The xGravel mode offers 20mm of ground clearance with activated immediately, the comfortable response from the pedal, resulting in the perfect balance of safety and strong ground.
xRocks
The xRocks mode offers an additional ground clearance of 40mm consistent propulsion and plenty of space below.
xSnow
The xSnow off-road mode features DSC activated suspension, resulting in sufficient grip on slippery roads.
Remote Software Upgrade
With remote software upgrades, your BMW vehicle is always up to date. You can download the upgrades via the My BMW App or SIM card installed into the car.
Connected Package Professional
Remote services use BMW Maps, Smartphone integration, Apple CarPlay and Android Auto or In-Car Experience with the Connected package services from BMW Connected Drive.
BMW Intelligent Personal Assistant
The BMW Intelligent personal assistant communicates with your vehicle and can explain your car's topics or help you get to know your BMW even better.
Overseas Motors BMW Finance Centre
Interested in the 2022 BMW X5 or are looking for a BMW dealership near me, book your appointment today at Overseas Motors BMW to schedule a test drive. We look forward to hearing from you.
2022 BMW X5
Price : $80,235
Engine Type:3.0L 6cyl
City: 11.4L/100 km*
Highway: 9.2L/100 km*
Power: 335hp @ 5,500RPM
Drive Train: AWD
2022 BMW X5 M
Price : $135,035
Engine Type:4.4L 8cyl
City: 17.9L/100 km*
Highway: 13.0L/100 km*
Power: 617hp @ 6,000RPM
Drive Train: AWD
Why Buy at Overseas BMW?
If you're looking for a dealership to call home. You're looking in the right direction. We discuss why Overseas Motors BMW is the dealership for you.
Our highly trained sales staff and service advisors have been in the business for many years. Their ability and knowledge with everything in the automotive industry show their experience in assisting customers with any questions. They are able to cater to all of your needs to ensure that we are meeting and exceeding your expectations.
No matter if you have good credit, bad credit, no credit, or even experienced bankruptcy. If you are in search of securing the lowest financing rates for your situation you have come to the right place. Our experienced finance team works closely with the banks to help you get the financial advice you need. Visit us at Overseas Motors BMW and what you've got is an outstanding variety with plenty of affordable personalized made choices to all kinds of car enthusiasts.
We are overwhelmingly excited to welcome you to our dealership so come on down today! Find our location now at 9425 Tecumseh Rd E, Windsor ON N8R 1A1