2023 BMW 4 Series | Overseas Motors BMW
The BMW 4-Series is popular with car enthusiasts and luxury car buyers. The 2023 BMW 4-Series is no exception, offering a sleek design, powerful performance, and advanced technology features. The 2023 BMW 4-Series will impress drivers and passengers with its updated design and features.
The interior of the 2023 BMW 4-Series is luxurious and high-tech, with high-quality materials and advanced features. The luxury seats are comfortable and supportive, with various adjustability options for the driver and front passenger. The sleek and modern dashboard has a large touchscreen display and intuitive controls. The iDrive infotainment system is easy to use and offers a range of features, including navigation, Apple CarPlay, and Android Auto.
The cabin is also spacious, with ample room for passengers in the front and back seats. The rear seats fold down to increase cargo space, making it easy to transport more oversized items.
The exterior of the 2023 BMW 4-Series is sleek and modern, with a low-slung profile and a sporty design. The front end features a large grille and aggressive headlights, giving the vehicle a bold and distinctive look.The car's elegant and sporty design makes it an excellent choice for drivers who want a luxury car that can also perform. The 2023 BMW 4-Series is available in various colors and trim levels, allowing buyers to customize the car to their preferences.
Experience the remarkable 2023 BMW 4 Series, where powerful proportions meet finely engineered TwinPower Turbo engines. From the inline 4-cylinder of the 430i models to the inline 6-cylinder of the M440i models, enjoy an impressive range of up to 382 horsepower. With its wide front track, this Coupe ensures enhanced responsiveness and impeccable handling, elevating your driving experience to new heights. The stiffened chassis provides maximum rigidity and control, allowing you to conquer the road confidently. Immerse yourself in luxury and exhilaration as the 2023 BMW 4 Series combines stunning design, advanced technology, and exceptional performance in one extraordinary package.
Trim Highlights
2024 BMW 4-Series Price & Models
Transmission -  Automatic
Body Style -  Convertible
Engine -  3.0L 6cyl
Transmission -   Automatic
Body Style -  Convertible
Engine -  2.0L 4cyl
Dynamic Displays
Immerse yourself in a driver's ecosystem within the cockpit, showcasing the innovative BMW Curved Display. This dynamic setup combines a customizable 12.3" Digital Instrument Cluster and a 14.9" Central Information Display, offering personalized views and an immersive experience.
Apple CarPlay & Android Auto
Experience seamless integration of your preferred operating system with onboard displays through standard wireless Apple CarPlay and Android Auto compatibility. Enjoy convenient access to apps, entertainment, and communication features effortlessly.
Digital Assistant
With the standard BMW Intelligent Personal Assistant, take full command over vehicle settings, navigation, and entertainment. Easily activate it by saying "Hey, BMW..." or your personalized activation word, granting you seamless control and customization.
Active Blind Spot Detection
Exterior mirror alerts and steering wheel vibration offer enhanced protection, notifying you of blind spot hazards and providing an extra layer of safety.
Lane Departure Warning
Stay on track with an automated system that promptly alerts you when your BMW deviates from its lane, ensuring you take corrective action.
Frontal Collision Warning with City Collision Mitigation
Receive warnings to proactively prevent or minimize accidents with vehicles ahead while the system intervenes by engaging the brakes when required for enhanced safety measures.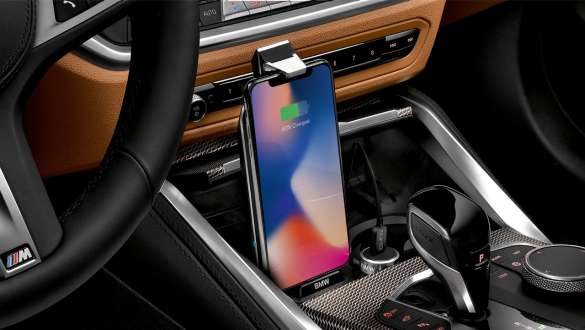 Frequently Asked Questions
Is the 4 Series Coupe all-wheel drive?
Choose from rear or all-wheel drive options across the 4 Series Coupe lineup. The 430i, M440i, M4 Coupe, and M4 Competition Coupe come with RWD, while the 430i xDrive and M440i xDrive feature intelligent AWD. The M4 Competition xDrive Coupe boasts M xDrive for enhanced stability and traction.
How many seas does the 4-Series Coupe have?
The 4 Series Coupe lineup accommodates up to four occupants, with seating available for the driver, front passenger, and two individuals in the rear cabin.
How much trunk space is available in BMW 4 Series Coupe?
With a maximum cargo capacity of 15.5 cu ft, the 2023 BMW 4 Series Coupe offers ample room for your belongings. The rear folding seats come to the rescue when additional storage is required. You can release the rear seat backrest for increased space by simply pulling the lever in the cargo area.
We are thrilled to showcase the exceptional 2023 BMW 4 Series in our showroom at Overseas Motor BMW. If you have any questions or would like to learn more about this stunning vehicle, our knowledgeable team is here to assist you. To experience the driving pleasure firsthand, we invite you to schedule a test drive today. Get behind the 2023 BMW 4 Series wheel and discover its impressive performance, cutting-edge features, and elegant design.
Contact us now to book your test drive or to inquire about any other information regarding the 2023 BMW 4 Series. Our dedicated staff is ready to provide you with an exceptional customer experience. Visit us at Overseas Motor BMW and let us help you find the perfect BMW that matches your desires and exceeds your expectations.