2023 BMW i4 Review
The 2023 BMW i4 represents a leap into the future of electric mobility. With its sleek design and impressive performance, this all-electric sedan offers a driving experience that's both sustainable and exhilarating. Its advanced technology, spacious interior, and emission-free powertrain make the BMW i4 a compelling choice for those seeking an eco-friendly yet dynamic driving solution.
Experience opulence within the lavishly crafted interior of the 2023 BMW i4. Choose from rose gold trim, white leather upholstery, and light wood accents that radiate sophistication throughout the cabin. Distinctively, the i4 introduces a sweeping, seamless display, spanning much of the dashboard, setting it apart. Embracing the essence of a coupe, the four-door i4 presents a captivating rear roofline while maintaining a conventional trunk. Spearheading technology debuted with iDrive 8 infotainment and connectivity software, subsequently elevating to iDrive 8.5 through an over-the-air update. The system commands a 14.9-inch touchscreen fused with a 12.3-inch digital instrument panel, all within a sizable curved display. Navigating features are seamless, encompassing a rotary controller and advanced voice commands. The i4 generously offers Apple CarPlay, Android Auto, and Wi-Fi hotspot functionality, ensuring connectivity and convenience while embodying BMW's commitment to cutting-edge design and innovation.
The 2023 BMW i4 exterior showcases innovative design elements that define its identity. The kidney grille, aligned vertically, stretches from the unique BMW i4 front apron. Beyond its distinctive appearance, this grille conceals advanced sensor technology for real-time data. The BMW i4's aerodynamically honed silhouette seamlessly extends classic Coupe proportions, marked by a lengthy wheelbase, concise overhangs, and a fluid roofline, crafting an athletic and refined form. Precision abounds as vertical aero lips artfully enclose the vehicle's sides, contributing to its streamlined appeal. The BMW i4's character is further emphasized through thoughtfully designed diffuser elements highlighted by a blue trim frame—distinctive of the BMW i4. These features unite to forge a remarkable blend of style, aerodynamics, and technological innovation, embodying the spirit of the BMW brand.
The 2023 BMW i4 harnesses an intricate blend of efficiency, lightweight construction, aerodynamics, and a robust high-voltage battery. The BMW i4 eDrive showcases impressive ranges of up to 484 kilometres by merging these elements seamlessly. Innovative technologies, including brake energy recovery, further bolster the range while minimizing energy usage. The rear-wheel-drive i4 eDrive35 boasts a singular synchronous motor, delivering 281 hp and 295 lb-ft of torque. This propulsion propels the sedan to approximately 0-100 km/h in six seconds. Powered by a 66 kWh net capacity battery (total gross capacity of 70.2 kWh), the i4 eDrive35 achieves a maximum driving range of 418 kilometres. The 2023 BMW i4 is a testament to the brand's dedication to fusing cutting-edge technology, efficiency, and spirited performance.
Driver-Oriented Cockpit
The exceptionally sleek and level instrument panel establishes the contemporary ambiance within the interior of the BMW i4. The elevated center console adds a sporty touch, creating distinct zones for the driver and the front passenger.
BMW Curved Display
In the BMW i4, the innovative BMW Curved Display seamlessly merges the 12.3" instrument cluster with the expansive 14.9" Control Display. This integration forms a contemporary display that elegantly curves towards the driver, enhancing ergonomic design.
Blind Spot Monitoring
The 2023 BMW i4 includes Blind Spot Monitoring, enhancing safety by alerting drivers to vehicles in their blind spots, mitigating potential collisions and ensuring safer lane changes.
Lane Keeping Assist
The 2023 BMW i4 is equipped with Lane Keeping Assist, promoting safety by gently steering the vehicle back into the lane if unintentional drifting occurs, preventing potential collisions.
Back-Up Camera
The 2023 BMW i4 features a back-up camera, enhancing safety by providing a clear view of the area behind the vehicle while reversing, minimizing the risk of collisions.
Engine Liter - 3.0-liter
Horsepower - 473 @ 6250-6250
Torque - 406 @ 2650-6130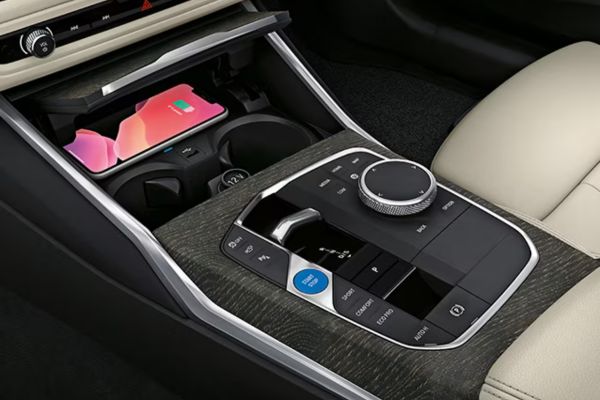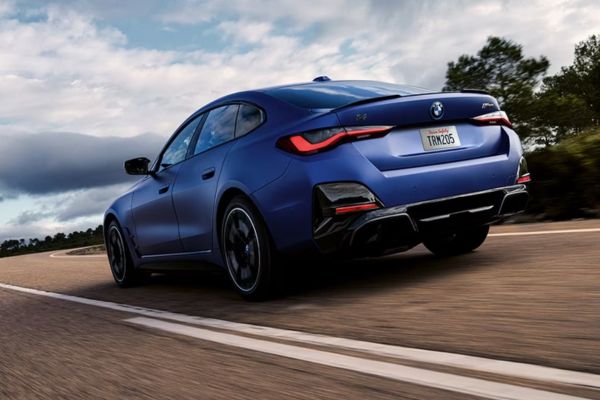 Frequently Asked Questions
Q: How does the BMW i4 contribute to sustainability?
A: The 2023 BMW i4 is fully electric, producing zero tailpipe emissions. Using clean energy and reducing reliance on fossil fuels, the i4 significantly lowers its environmental impact, promoting a more sustainable driving future.
Q: Is the 2023 BMW i4 an all-electric vehicle?
A: The 2023 BMW i4 is an all-electric vehicle powered solely by an electric motor for emission-free driving.
Q: What standout features of the 2023 BMW i4's interior?
A: The 2023 BMW i4 boasts a modern, tech-forward interior with premium materials and advanced infotainment. Notably, the iDrive system integrates seamlessly with a large central touchscreen, and the i4 offers spacious seating for both passengers and ample cargo capacity for practicality.