2024 BMW 4 Series 430i xDrive Review
The 2024 BMW 4-Series offers style, performance, and cutting-edge technology. Its sleek design, powerful engine options, and advanced features like the iDrive infotainment system deliver an exhilarating driving experience. The 4-Series combines luxury and sportiness, making it a standout choice.
The 2024 BMW 430i boasts a sophisticated interior, placing the driver in the spotlight. Its functional design perfectly complements precise lines and high-quality elements, creating a modern and independent ambiance. Elevating the driving experience, the 430i interior showcases modern aesthetics, advanced technology, and meticulous attention to detail. It shares impressive technology with the 3 Series sedan, including a 12.3-inch gauge display and a 14.9-inch infotainment display. These displays feature BMW's iDrive 8 infotainment software, offering an intuitive interface for seamless interaction. A console-mounted click-wheel controller and responsive touch screens ensure effortless use and direct engagement while driving. Standard features such as Apple CarPlay and Android Auto integration provide seamless smartphone connectivity, while in-dash navigation enhances convenience and guidance on your journeys.
The 2024 BMW 430i exudes a rebellious and independent character through its captivating exterior design. It commands attention with the iconic BMW double kidney grille on the front fascia, symbolizing maximum independence and expressive presence. The unique styling of the grille distinguishes the 430i and gives it a captivating identity. The dynamic lines and contours of the exterior enhance its edgy aesthetic, creating a sense of motion even when stationary. Every angle of the 430i Coupe showcases a seamless fusion of style and performance, embodying its true sporty nature. With its bold and distinctive exterior, the 2024 BMW 430i Coupe makes a powerful statement on the road, capturing the essence of individuality and standing out from the crowd.
The 2024 BMW 430i Coupe has the new Twin Power Turbo 2.0-liter 4-cylinder engine, providing a thrilling driving experience. This engine delivers agile power delivery, impressive responsiveness even at low speeds, and balances performance and fuel efficiency with reduced emissions. With the intelligent BMW xDrive all-wheel drive system, the 430i Coupe offers improved traction, driving dynamics, and safety on various road surfaces. The system intelligently distributes drive power between the front and rear wheels, optimizing grip and handling for enhanced performance. Whether desiring exhilarating acceleration or smooth cruising, the 2024 BMW 430i Coupe offers a captivating driving experience. Its powerful and responsive engine, paired with the advanced xDrive all-wheel drive system, ensures outstanding performance and confident handling in any driving scenario. Furthermore, the electronically controlled power distribution counters oversteer or understeer, enhancing overall agility and stability, particularly during cornering maneuvers.
Steptronic Sport Transmission
The 8-speed Steptronic Sport transmission offers an exciting gear-shifting experience. It ensures seamless transitions, whether you prefer comfortable cruising or dynamic driving. You can enjoy automatic mode for effortless shifts or take control manually using the selector lever or gearshift paddles. Activate SPORT mode and position the selector lever in the left-hand S/M position for optimized gear shifts, unlocking the full potential of the vehicle's performance capabilities.
Trim Highlights
2024 BMW 4-Series Price & Models
2024 BMW 430i xDrive Coupe
Transmission -  Automatic
Body Style -  Coupe
Engine -  2.0L 4cyl
2024 BMW M440i xDrive Coupe
Transmission -   Automatic
Body Style -  Coupe
Engine -  3.0L 6cyl
Smartphone Integration
By integrating your smartphone, your vehicle effortlessly embraces Apple CarPlay and Android Auto wirelessly, allowing you to utilize familiar functionalities and a vast selection of apps directly within your car.
Parking Assistant Plus
Parking Assistant Plus makes maneuvering and parking a breeze. It includes Surround View, Panorama View, remote 3D View, lateral parking aid, and features like Active Park Distance Control, Parking Assistant, and Reversing Assistant.
Driving Assistant Professional
With Driving Assistant Professional, your driving experience is comfortable and safe, particularly in challenging and monotonous traffic situations. It offers an extended range of features, including the Steering and Lane Control Assistant, Emergency Stop Assistant, and Lane Keeping Assistant, providing enhanced driving assistance and a stress-free journey.
Lane Departure Warning
Stay on track with an automated system that delivers timely notifications whenever your BMW drifts from its lane, reminding you to take immediate corrective action.
Active Blind Spot Detection
Elevated safety measures are implemented using exterior mirror alerts and steering wheel vibration. These integrated features collaborate to promptly notify you of any potential blind spot hazards, further enhancing the overall safety of your driving experience.
Frontal Collision Warning with City Collision Mitigation
Stay ahead of the game and reduce the risk of accidents with proactive warnings and intervention from the system. Receive timely alerts to prevent or mitigate collisions with vehicles in front of you, and enjoy enhanced safety as the system automatically applies the brakes when needed.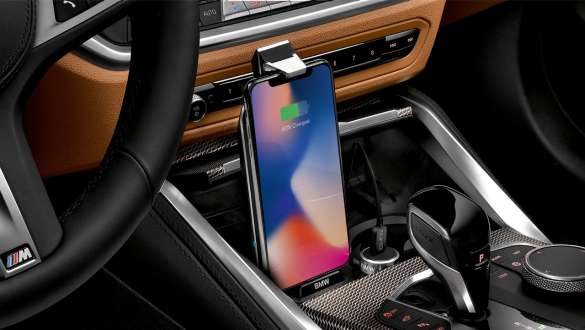 After exploring the impressive features of the 2024 BMW 430i Coupe, contact Overseas BMW in Windsor, Ontario, to schedule your test drive and learn more about the 2024 BMW 4-Series 430i xDrive pricing. Experience the exhilaration of driving the 430i Coupe firsthand at Overseas BMW today!