2022 BMW iX xDrive50 Review
Overview
Thanks to efficient BMW eDrive technology and its fully electric all-wheel drive, the BMW ix achieves an exceptional range and delivers power from a standstill. The intelligent BMW Operating System 8 keeps itself up to date and can be operated entirely intuitively.
Exterior
2022 BMW iX xDrive50 Exterior
The front of the iX xDrive50 features a futuristic design with the BMW kidney grille that highlights the refined appearance and combines the narrowest twin headlight for BMW. The side view offers a tremendous rectangular contour around the wheel arches. The flush door handles and frameless doors and windows outline the harmoniously integrated appearance. The rear of the iX xDrive50 offers a large surface, with narrow rear lights, a seamless tailgate, and elements of aerodynamics to improve range.
Performance
Driving Assistance
The BMW iX has an extensive range of driver and assistance systems for standard features. The Driving Assistant Professional offers optimum convenience and safety in critical traffic situations. Among the features included in the system are:
Steering and Lane Guidance
Emergency steer assist
Lane Keeping Assistant with side collision warning
Parking Assistant Plus helps in parking and maneuvering and uses many cameras to give you.
Full display of objects surrounding your vehicle in 3D as well.
Features
2022 BMW ix xDrive Interior
The interior of the BMW iX offers a unique place to unwind with a modern interior. You can find a flat dashboard with a large BMW curved display, slim seats and a high-quality choice of colours and materials. The free-standing floating centre console's large panorama glass roof creates a fantastic feeling of space. Here are some of the interior designs that make the iX xDrive50:
Lounge Seats in the Rear
The BMW iX offers a spacious atmosphere for the rear passengers. Additional options for the rear seats include heating, and 3d loudspeakers integrated into the headrest. The back seat's backrest is splitting into a 40/20/40 ratio to help extend the luggage compartment's capacity.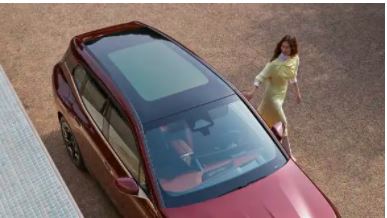 Panorama Glass Roof
The full-length panoramic glass roof creates a relaxed atmosphere within the cabin. The panorama glass roof can be electro chromatically shaded for more privacy.
Technology
BMW iDrive
The BMW iDrive offers a new holistic interior that allows you to communicate with your BMW. In addition, with the iDrive user interface, you control the information system with the aid of its intelligent digital assistant, which reacts to your voice and gestures.
2022 BMW ix xDrive50 Technology
The Shy tech concept focuses on passengers and allows modern technology in the BMW ix to blend into the background until needed. Invisible intelligence can be experienced in many details of the interior and exterior, such as:
Kidney grille
Camera technology
Radar functions
State-of-the-art sensor technology
Invisibly embedded speakers
Safety
Auto Emergency Braking – Interurban
AEB is a technology designed to apply your car's brakes when you can't to help avoid or reduce the severity of the crash in higher speed zones (30-80 km/h).
Electronic Stability Control
ESC is an automatic feature that becomes active if you lose control of your car.
Lane Keep Assist
Lane-keeping technologies are designed to prevent you from leaving your lane of travel.
Trims Highlight
2022 BMW iX xDrive50
Starting at

$89,990*
Details:
DC Fast Charging
BMW iX Shy Tech Concept
BMW iDrive controller
Sustainable interior leather
BMW xDrive electric all-wheel drive
Book a Test Drive
Why Buy at Overseas BMW?
If you're looking for a dealership to call home. You're looking in the right direction. We discuss why Overseas Motors BMW is the dealership for you.
Our highly trained sales staff and service advisors have been in the business for many years. Their ability and knowledge with everything in the automotive industry show their experience in assisting customers with any questions. They are able to cater to all of your needs to ensure that we are meeting and exceeding your expectations.
No matter if you have good credit, bad credit, no credit, or even experienced bankruptcy. If you are in search of securing the lowest financing rates for your situation you have come to the right place. Our experienced finance team works closely with the banks to help you get the financial advice you need. Visit us at Overseas Motors BMW and what you've got is an outstanding variety with plenty of affordable personalized made choices to all kinds of car enthusiasts.
We are overwhelmingly excited to welcome you to our dealership so come on down today! Find our location now at 9425 Tecumseh Rd E, Windsor ON N8R 1A1.
Contact Us
If you are interested in the 2022 BMW ix xDrive50 or looking for a BMW dealership near me, book your appointment today to schedule a test drive and discuss a financing plan that best fits your needs.